The 8 Best Drugstore Foundations Under $10 That Are So Good, You'll Never Want to Spend a Penny More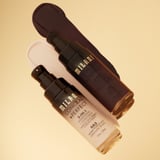 There's no greater challenge in the beauty world than finding your perfect foundation match. Dewy or matte (or even semimatte), full coverage or light, water resistant or waterproof, color correcting or shine controlling – the list of options goes on and on. Even when you narrow it down to just the best drugstore foundations, there's still no shortage of products to choose from.
Don't get us wrong here, we like having options. But the more options you have, the harder it is to pick just one. Luckily, with these top-notch foundation formulas that you can get at the drugstore for under $10, theoretically, you could choose more than one – they're that affordable.
With foundation picks from some of your favorite budget-friendly beauty brands like E.l.f. Cosmetics, Maybelline New York, and NYX Professional Makeup, we rounded up the best drugstore foundations under $10 for you to shop.