Rowan Blanchard Proudly Showed Her Body Hair in a Photo Shoot, and It's So Refreshing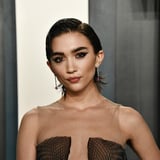 Rowan Blanchard proudly showed off her body hair in a new photo shoot for Cultured Mag. The former Girl Meets World star covers the magazine's March issue, where she's seen in one of the photos wearing lacy lingerie and sporting butterfly tattoos all over her body. In the accompanying story, Blanchard opens up about becoming an activist at a young age, spending last Summer in New York, and finding herself.
"It's felt at times hard to navigate having to be visible during what feels like such formative and private years of my life, and this shoot felt like a wonderful celebration of the autonomy I feel in at least in my body now," Blanchard captioned a photo of the cover on Instagram before thanking the photographer, Alia Penner, and others involved with the shoot. After Emily Ratajkowski posed for a Harper's Bazaar cover with her armpit hair last year, it's refreshing to see another even younger celebrity normalizing body hair on women. Head over to Cultured Mag to see the pics and read Blanchard's full interview.