Bobbi Brown Talks Embracing Your Natural Beauty – and the Rise of Indie Brands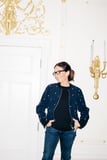 When I was a very young girl, I used to watch my mother get ready for date night with my dad and thought she was so glamorous. I was obsessed. Growing up, I never felt as pretty as I thought she was, and so I used to play with makeup so I would look "prettier." But my way of doing my makeup was that I didn't want anyone to know I was wearing it.
When I was 16 years old, I went in for a "makeover" at a department store and while doing my makeup the lady said, "Your nose is too big. Let me show you how you can change the shape of your nose and make it smaller. Your skin is too yellow; let me fix that, let me fix this, let me fix that." By the end, I looked god awful, and she made me feel like shit. When I went home, I washed my face, looked in the mirror, and thought, Wow, I look so much better now. That experience always stuck with me.